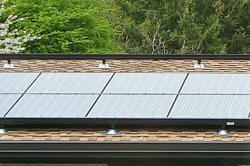 Bellingham, WA, US and Cardiff, UK (PRWEB) April 19, 2013
Events around the world will celebrate Earth Day on Monday 22 April, drawing attention to global challenges such as adapting to climate change, generating renewable energy, and attaining sustainability in everything from local food sources to investment choices. Photonics technologies, powerful drivers behind advances in every facet of life, are demonstrating their green nature as well, noted event organizers at SPIE, the international society for optics and photonics.
Sustainable photonics are at work in the form of photovoltaics for generating energy from sunlight, solid-state lighting (SSL) for cheaper, more efficient, longer lasting light sources, sensors to detect ocean temperatures and monitor the effect on fish populations, and numerous other applications.
An annual conference on sustainable photonics held at SPIE Photonics West in San Francisco highlights papers in which research in the field enables development of new technology that can improve standards of living and save money and resources. To emphasize the importance of this research, this year SPIE recognized four papers with Green Photonics Awards.
Photonics innovations enable improved sustainable products and services worldwide. The winners of this years Green Photonics Awards are exemplary in this regard, said Stephen Eglash, Executive Director of the Energy and Environment Affiliates Program at Stanford University, and founder and chair of the green photonics symposium. Each of the winning papers provides new information to help solve existing problems using photonics.
Published award papers are available for free download in the SPIE Digital Library through 31 July.
Next-generation lighting
SSL utilizing light-emitting diodes (LEDs) is the new industry standard for energy efficiency, and the rapid development of LEDs has flooded the lighting market, Eglash said. LEDs are efficient and long-lived sources for general lighting, but commercially available products exhibit variable quality.
Carsten Dam-Hansen and Technical Univ. of Denmark colleagues Anders Thorseth, Dennis Corell, and Peter Poulsen tested a large number of LED lamps to evaluate quality and lifetime, as reported in their paper "Light quality and efficiency of consumer grade solid state lighting products."
It is the project groups hope that we internationally can work together on test and characterization so the data can be shared all over the world to benefit the individual nation importing or producing the products, Thorseth said.
Cheaper solar power
High-efficiency solar cells are needed to decrease the cost of solar energy, Eglash said. Solar cells that use thin absorber layers cost less and require less of the Earths materials. But inefficiencies of conventional light trapping techniques limit the ability to reduce the thickness of thin-film solar cells.
In one of two papers recognized in this area, "The photovoltaic potential of femtosecond-laser textured amorphous silicon, authors Meng-Ju Sher, Benjamin Franta, Kenneth Hammond, Lysander Christakis, and Eric Mazur of Harvard University told how they used femtosecond laser texturing to reduce reflection and enhance light absorption, enabling high efficiency from thin absorbers.
Cl