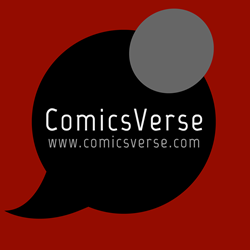 New York, NY (PRWEB) December 19, 2013
ComicsVerse is a new social network for the sophisticated comic book fan. The website features all original content, including podcasts, interviews, reviews, videos, polls, and an interactive community with a live chat room. The site welcomes anyone who wants to delve deeper into the literary and philosophical aspects of mainstream and independent comics. ComicsVerse is the creation of two Columbia University alumni – Justin Gilbert Alba and Anatole Ashraf. Inspired by the theories of Scott McLoud, the premier comic book theorist, the pair analyze and provide in-depth criticism of both mainstream and independent publications. The site engages its visitors to discuss the characters and themes in comics, alongside original podcasts and video interviews of comic book creators focusing on the artistic process behind the scenes. Comic book fans can Like ComicsVerse on Facebook at http://Facebook.com/ComicsVerse or follow them on Twitter at @ComicsVerse.
ComicsVerse is great for fans who have become disenchanted and stepped away from comics or for people who are new to them, said ComicsVerse Co-Founder Justin Alba. We strive to offer an unparalleled level of intellectual immersion and exploration for comic book fans. We created ComicsVerse to be a feature-rich global social network for the sophisticated comic book fan who is seeking a higher level of interaction and in-depth discussion. We analyze and provide theory surrounding the mainstream, such as Marvel Comics, DC Comics and Image Comics but also have our eyes on underground and independent comics, concluded Alba.
ComicsVerse podcasts feature lively and provocative discussions with a host of guests as Alba and Ashraf delve into the issues and themes of current and past releases. Interviews feature Ashraf chatting with the likes of X-MENs Olivier Coipel, Simone Bianchi, and Ben Templesmith, just to name a few. The ComicsVerse Blog provides the latest news, events and links in the world of comic books and graphic novels.
Beyond original content, our sites social features give fans the opportunity to continue the discussion by uploading their own videos and photos as well as connecting in a live chat room or through instant messenger, concluded Ashraf.
ComicsVerse invites comic book creators, professional artists, pencilers, inkers and others involved in the comic book industry to contact them via email at submissions (at) comicsverse.com if they would like to have their work featured on the website or be considered for an interview or podcast. Visit http://www.comicsverse.com for more information or check out their videos on the ComicsVerse YouTube Channel at http://Youtube.com/ComicsVerseTV.